This is a sponsored post written by me on behalf of Lowe's.
It might be just me but I'm constantly thinking of ways to making our cozy abode feel more updated and colorful. I'm on Pinterest 90% of the time pinning bright and colorful bohemian spaces that give me inspiration. So, while laying in bed one afternoon and feeling less than inspired by our white walls and ceiling a thought crossed my mind. Why not paint the ceiling and the molding a brilliant pop of color to make the space feel less blah? I mean, after all, I'm going to be spending a heck of a lot more time in the room once the new baby arrives and I want to feel as comfortable and inspired as I do while in the living room. I mean, I love that room - those walls alone brighten my day. So, with that spark of interest I took straight to Pinterest to see if it had been done and how the results looked. I was worried that my bright idea was lost but as it would turn out it's extremely popular these days, only giving me further validation that it needed to be done. Then Lowe's came in to collaborate and it started to fall in to place.
First, I needed a color. Since we started transitioning blues into the room for the little one, so I thought a deep navy or indigo would be the best fit. It's calm, a little bit moody and will pop perfectly against the teal and navy accents throughout the room. Also, I can't help but love the thought of a sliver of blue poking out from our room as we sit in our living room with the berry walls. Hello, color! At first, I was a little worried going so dark in such a small space but after consulting Shavonda, my decor muse, she assured me it would be amazing. And like always she was spot on.
So, to
Lowe's
we went to start our adventure in painting. First off, they have A TON of paint options so if you're looking to start a paint project, I highly suggest heading to
Lowe's
. After about 20 minutes of looking at paint swatches, I finally decided on
Victory Blue
in satin finish from Olympic One. We grabbed a few essentials for the process, an adjustable paint pole to paint those hard to reach areas on the ceiling, drop cloth, a pan, some brushes and rollers. I also snagged a can of Metallic Rustoleom (Gold) in hopes of updating our hideous 'boob light' while we look for a more suitable flush mount option for the newly updated space. After spending just under $100, we headed home to prep.
After a full day of painting, edging and touching up I'm thrilled with the end result. It adds the needed pop of color and I can finally start moving forward with bringing in nursery items to make things feel finished. Now, to find the perfect flush mount fixture for our ceiling.
Check out the before and after:
The process:
After: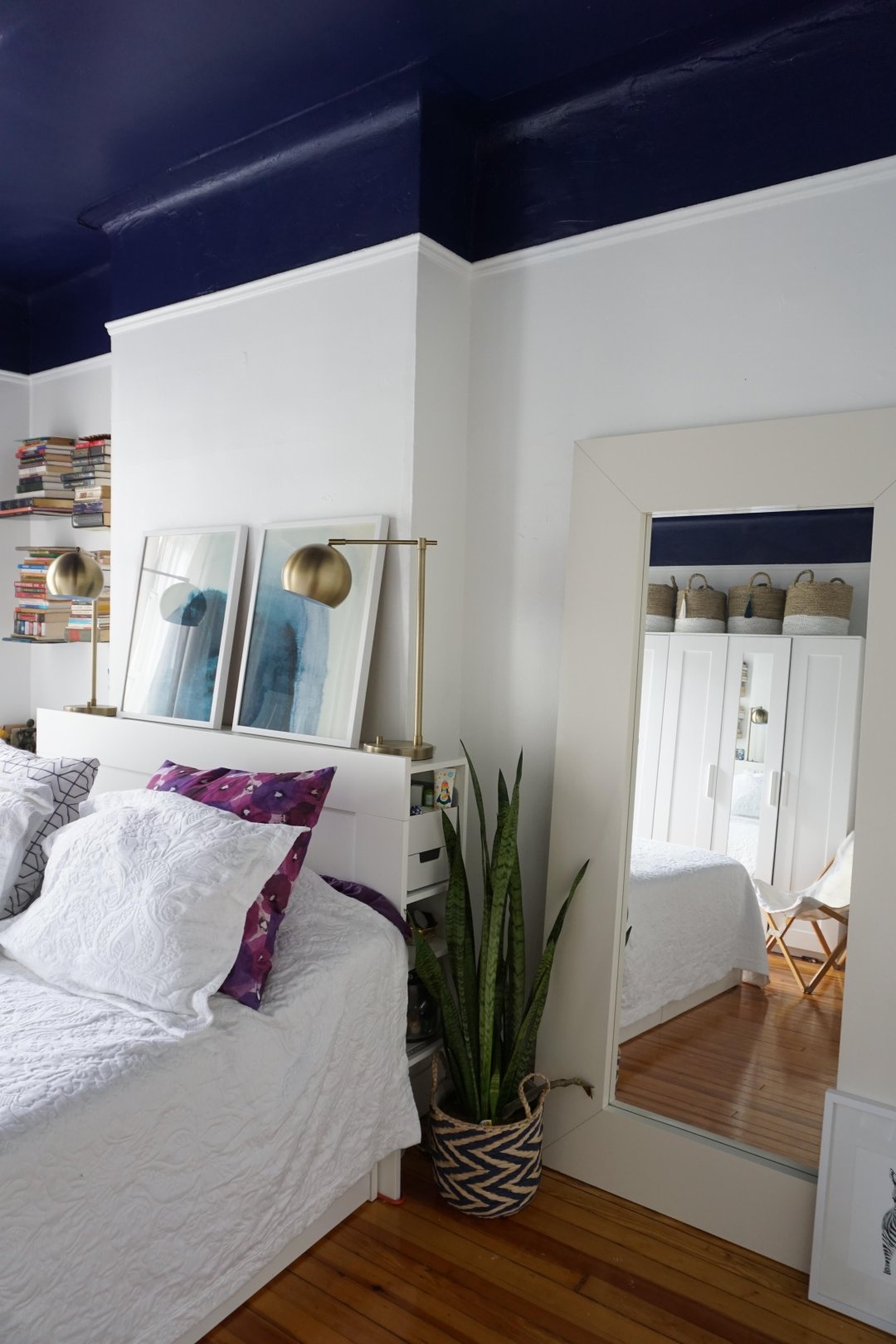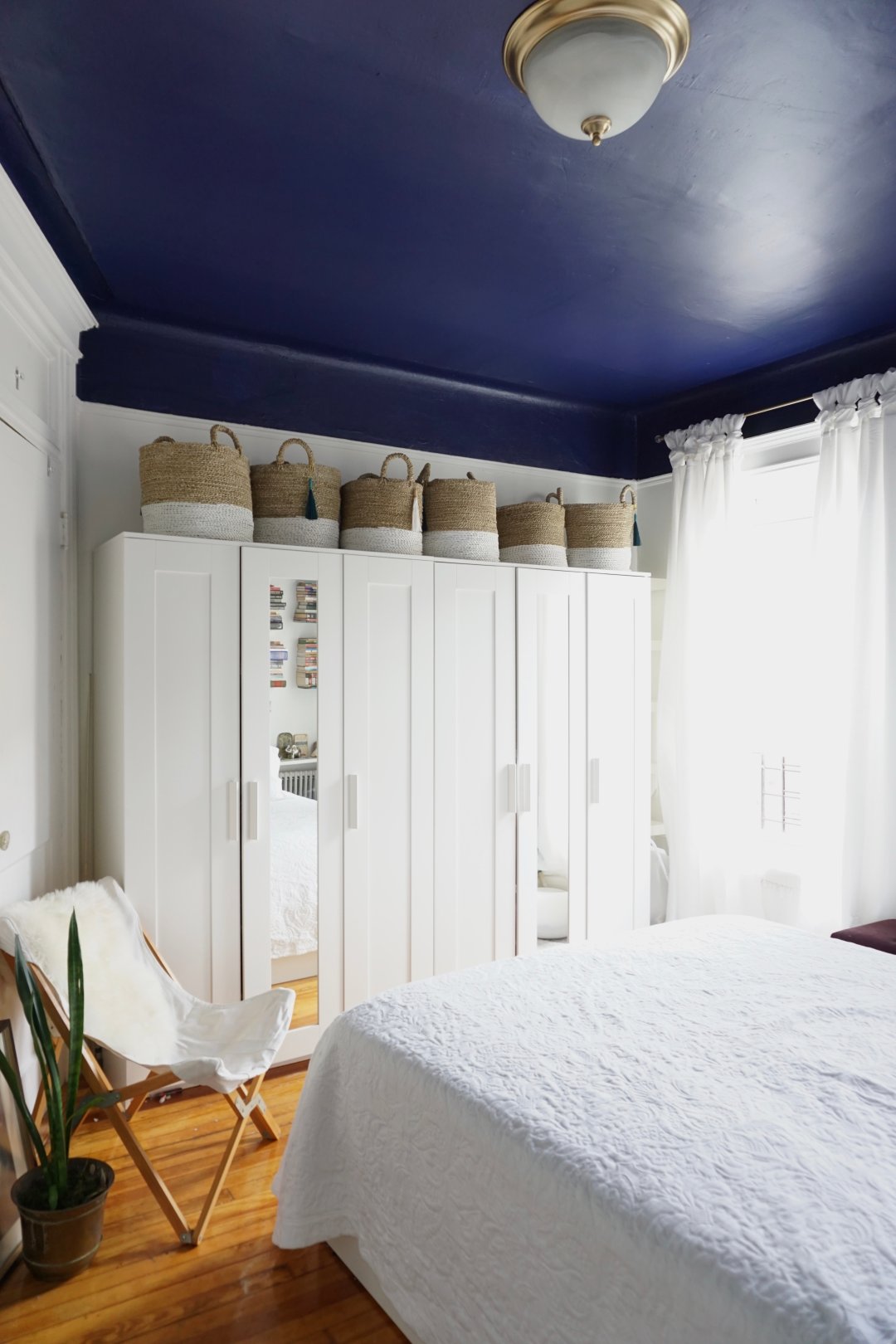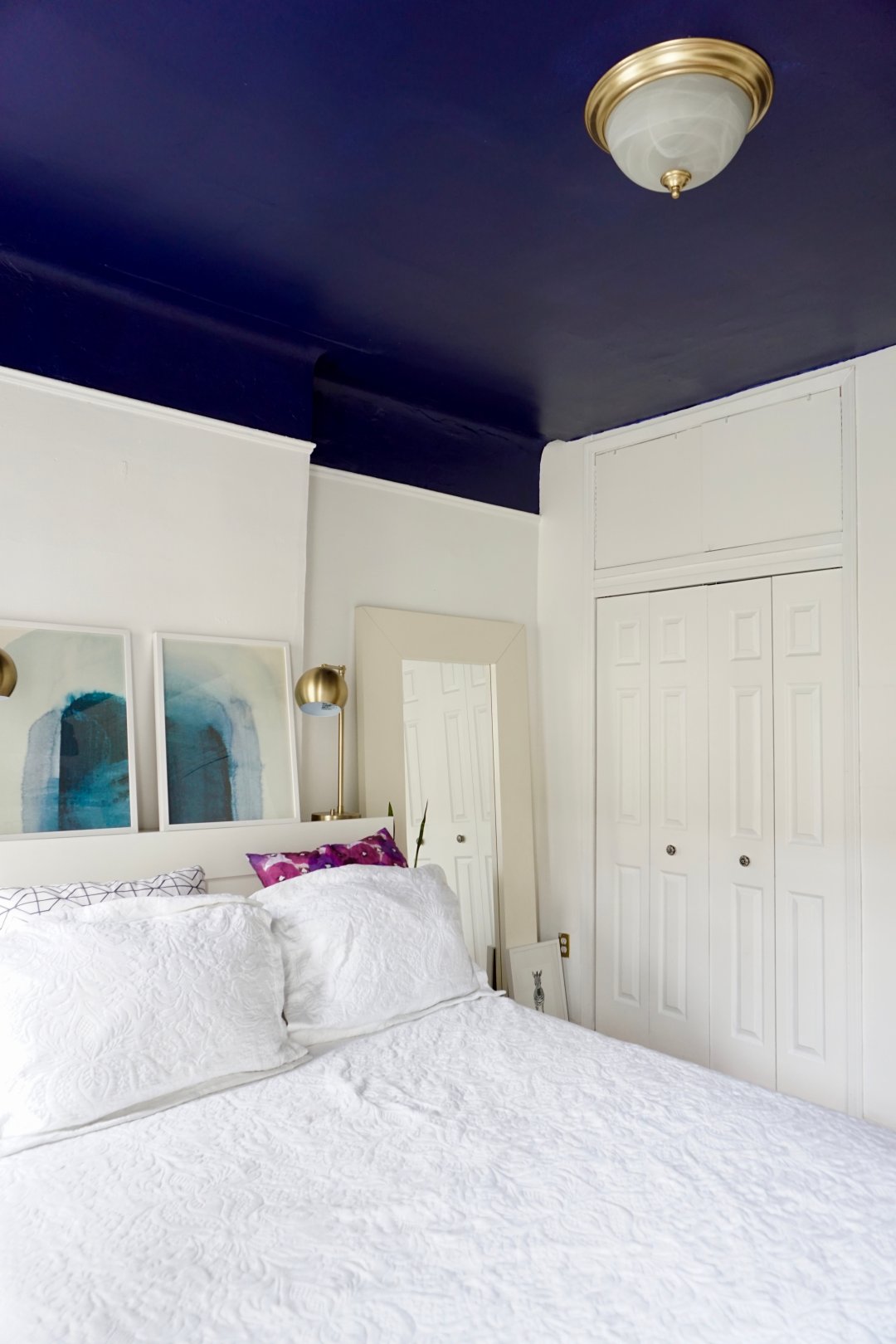 This is a sponsored post written by me on behalf of Lowe's.